Even though I'm totally into the au naturel look (you are beautiful just the way you are, yes, you too!), I also absolutely LOVE experimenting with make-up. When wearing a vintage-inspired outfit, I wish I could go back in time to really experience what that era was like. Trying to recreate that feeling is easiest if I also add a vintage twist to my hair style and make-up look. However, I did find myself struggling to recreate a retro make-up look and didn't really get much further than red lipstick and winged eyeliner. So I decided to do some research and I want to share my findings with you so you can also experience that true vintage feeling.


Roaring twenties
In this blog post I will give you a step-by-step tutorial to help you create a 1920s inspired make-up look with a modern twist. Glitz and glam or home jam: this make-up look is a great go-to for any occasion! The roaring twenties conjure up images of the Great Gatsby, Louise Brooks, Clara Bow, Coco Chanel, Greta Garbo, flapper dresses adorned with tassels, beads, and feathers OH AND: stunning make-up looks! A look that is just as characteristic and extravagant as the clothes. Many of the pictures you see are black and white images, which can be misleading. As it turns out roaring twenties make-up was often bold and colourful.
What do you need?
- Foundation
- Concealer
- Concealer brush
- (Loose) Powder
- Fluffy powder puff or brush
- Matte red blush
- Blush brush
- Black eye pencil
- Eyebrow brush
- Black or brown mascara
- Matte eyeshadow in grey, brown, plum, green or blue
- Matte red lipstick
- Matte red lip liner
Prep:
- Put your hair up or clip it back.
- Wash your face with a mild cleanser or soap. Rinse with cold water and pat your skin dry with a towel (no rubbing!).
- Apply some moisturiser to your face. Now you're good to go!

Let's start in 3:2:1:
1.
Apply foundation in a shade that matches your skin tone for an even complexion. 
2.
Apply powder using a fluffy powder puff or brush while following the contours of your face. It's best to use a loose powder that is one shade lighter than your face for that typical 1920s look. Just remember: the powder shouldn't mask your face it, it should only accentuate your face's natural contours.
3.
If you have full eyebrows, please don't feel the need to pluck them within an inch of their lives ;-) Dab concealer over your eyebrow and blend out. Then brush all hairs up from the bottom and down again from the top to create that arched line. Use a pencil that matches your hair colour to draw a thin arch. If you prefer a more dramatic look, you can draw the arch slightly past the natural line of your eyebrow at the outer corner of your eye. Use the concealer brush below and above the brow to create a clean, sharp line. Tip: use some clear eyebrow gel to tame any unruly hairs.
4.
Use a black pencil to draw a line along your lower lash line and then use a brush to smudge it into your lashes. Now line your upper lashes and make sure this line is a little thicker and extends slightly (about 5 mm) beyond the outer corner of the eye. Then smudge for a smokey eye look.
5.
This handy guide was used to choose the colour eyeshadow:
- Blue eyes: green or blue eyeshadow
- Green eyes: grey or green eyeshadow
- Brown eyes: brown or plum eyeshadow
Choose a shade that matches your eyes or just pick the one you like best! Apply the darkest shade just above the upper lash line and then apply a lighter shade in and just above the crease. Try creating a round shape and make sure you blend the two shades together for a seamless transition. Apply several layers of each shade if you want to build up colour for a darker, more intense look. You can also dab some white eyeshadow in the inner corner of your eye as a highlight for a fresher look. Fun fact: screen sirens from the 1920s piled on thick layers of eyeshadow for a heavy eye look that would really show up on camera when filming in black and white.
6. 
Apply some brown or black mascara to your upper and lower lashes. In the twenties brown mascara was the go-to for daytime wear, while black was used for evening.
7. 
For the mess makers among us (it's me!): make sure you remove any fallout from the under eye area before completing your look. Then using a concealer brush apply concealer in a shade that matches your skin tone.
8. 
Using a blush brush, apply a matte red blush to the apples of your cheek using circular motions. Hold your horses and don't apply too much in one go: it's easier to build up colour slowly than to remove excess blush ;-).
9. 
And the finishing touch: a matte red lipstick. Either pick a red shade with an orange undertone or opt for burgundy red for the most authentic twenties look. In those days the most popular look was a slightly overdrawn cupid's bow to create the illusion of a fuller lip while they would often under draw the bottom lip. Start by patting a bit of concealer on your lips to create an even, smooth base. Then use lip liner to create the right shape. Make sure you buff the liner in and finish with lipstick. That's your twenties make-up look done!
My 20s make-up look
Very important: REMEMBER TO HAVE FUN. It doesn't need to be perfect. Experiment, try different things, take it all off and start again! This is how my first attempt turned out: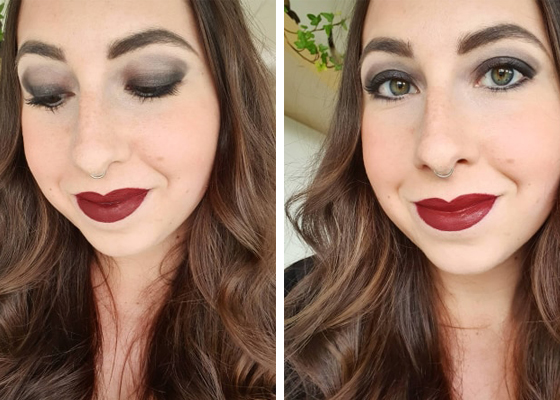 Fashion dilemmas who?
Pssst… if you're totally in love with this make-up look but don't have any matching '20s outfit… No. Problem. At. All. Cape shawls, boleros, maxi dresses and cocktail dresses, all adorned with beads and sequins. Take a look at our collection for a selection of gorgeous 
'20s-inspired fashion
. Complete your outfit with sparkling jewellery, a small bag and a pair of pumps. TopVintage to the rescue, again ;-)!