With autumn quickly approaching most of us really enjoy spending more time inside our homes. Whether you love baking cakes while wearing a fabulous swing dress, reading a book sat in your favourite comfy chair or cuddling with your cat; everything is even more fun in a perfectly styled vintage interior. Is your living room in need of a retro touch or do you fancy changing things up again? These are my 5 tips to help you create a fabulous vintage (inspired) interior. Bring on those cold winter months!

1.Mission 'Hunting for vintage treasures'
Creating a fabulous vintage (inspired) decor starts with collecting furniture and accessories that match your style and your home. Thrift shops and flea markets are a perfect place to start hunting for vintage treasures. My advice? Define your 'mission' before your start. That makes it so much easier to track down the right pieces. What is still missing from your interior? Are you looking for new chairs to go with your dining table, a pouffe to fill that empty corner or a storage cupboard for your kitchen? Or are you looking for a piece that will add the perfect finishing touch to your interior? Why not look for beautiful vintage vases, an edgy lamp or an old record player?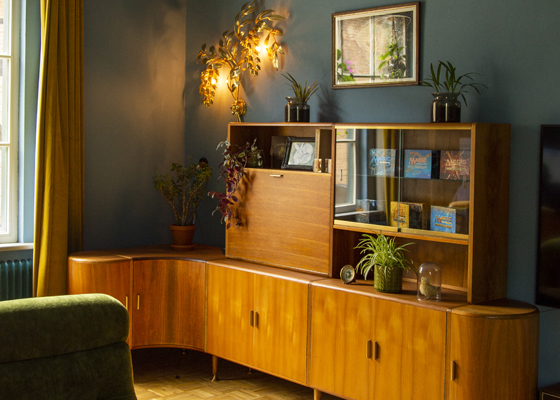 2. What is your story?
The beauty about a vintage interior is that the furniture and accessories have a story behind it! For example, my sideboard used to belong to my grandparents but thanks to a new coat of paint it is now a real eye-catcher in my living room. Then there is the Persian rug that adds a perfect retro look to my dining area. So why not ask around to find out if your grandfather, grandmother or great-aunt have any items or heirlooms hidden away in their attic that you could give a new lease of life in your living room or dining area? Or maybe you have some fun souvenirs from a trip that you made? A collection of old pictures in different photo frames also looks great! You can often find these photo frames in thrift shops but nowadays many interior shops and web shops also offer a nice selection of retro frames. Why not put some photo frames on display in an open cupboard or on a shelf above your TV alongside some little plants or cacti?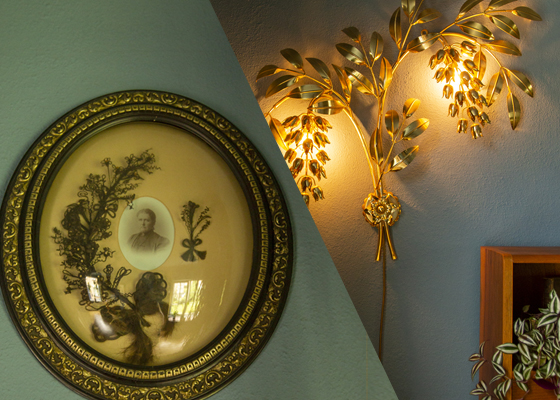 3. Add colour into your decor
Adding a splash of colour to the walls can make a big difference! But don't going running off to the nearby DIY store to stock up on paint (although I totally understand your enthusiasm ;-)), but try to decide which colour would be a great match with your style first. Typical vintage colours are ecru, slate, olive green, dark blue and pastel shades like pink and mint green. Don't focus on one single colour but create a contrast design by mixing and matching different colours or using different prints. Less is more definitely does NOT apply to vintage interior design: I love it!
Your preference for a certain decade will also influence your choice of colour. For example, in the fifties they used a lot of wood and shades of brown and green. If you prefer the sixties style, you should opt for bright colours, like orange. If you love the seventies, you should include retro wallpaper with vibrant colours and fun prints.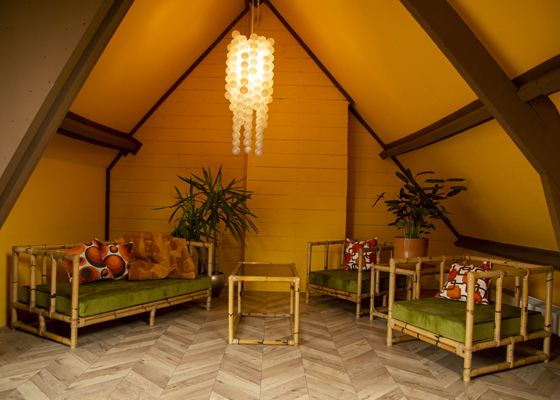 4. Lots of plants
Oh yes, lots of plants. And did I mention that you need lots of plants? I think the message is clear. ;-) Plants really do help to create that retro look. The Pancake plant, the Snake plant and the Spider plant are plants that could be found in a lot of living rooms in the 1960s and 1970s, so you definitely need those in your home.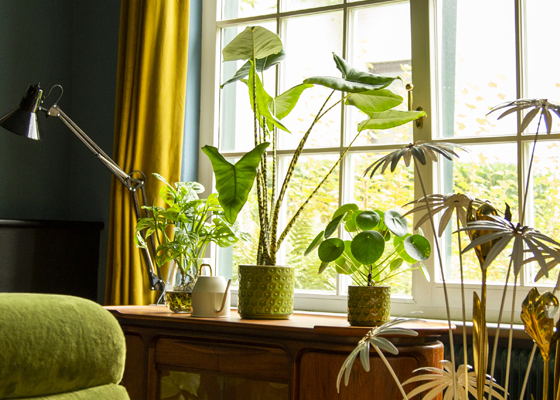 5. Copycat 
There is nothing wrong with getting some good ideas from someone else, is there? Get your inspiration from retro tv shows , Pinterest (but be warned; it's highly addictive
), interior design shows (vintage is all the rage right now) or visit our TopVintage Store. Here a lot of thought has gone into designing a gorgeous retro interior with different prints, beautiful vintage furniture and accessories. A real must-see!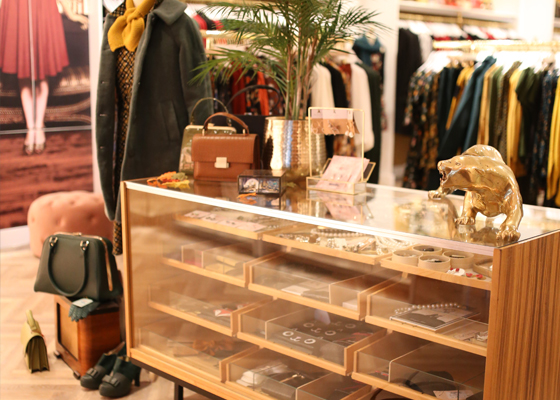 Credits interior pictures: Gina van Es (@maiden.of.the.moss)