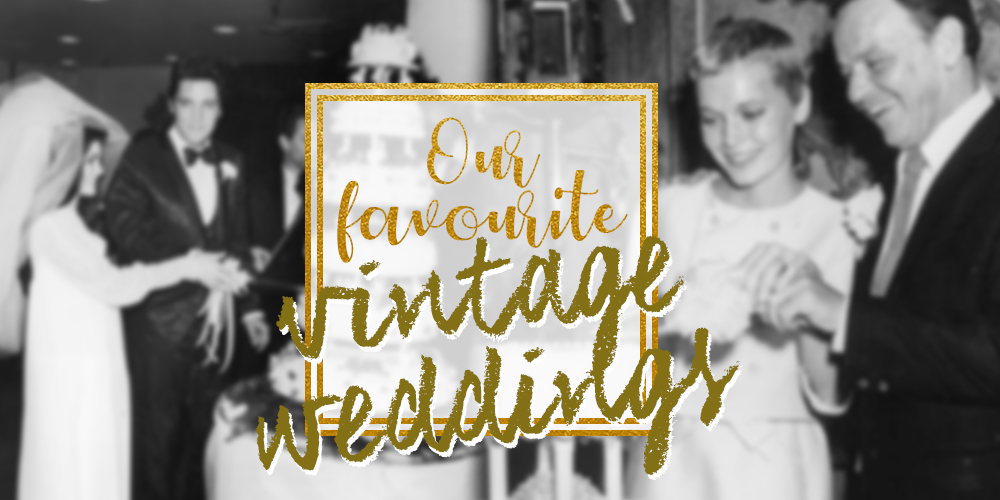 Swoon over these gorgeous wedding gowns of these icons of the 50s, 60s and 70s. 
We have collected the stunning pictures of these vintage weddings on this Pinterest Board. Enjoy!

♥  Elizabeth Taylor & Conrad Hilton 1950
Even though they were married for only nine months, her stunning wedding gown designed by MGM's designer Helen Rose still makes our vintage hearts skip a beat.

♥  Ava Gardner & Frank Sinatra 1951
Ava called Frank the love of her life. They moved to a fabulous house in Palm Springs with its own piano-shaped swimming pool. Even though they never stopped loving each other, they couldn't get their marriage to work, resulting in a divorce after six years of marriage. Her halter gown is a classy treasure!

♥  Elizabeth Taylor & Michael Wilding 1952
This was Elizabeth Taylor's second wedding. This time she opted for a more demure look in a beautiful suit accessorized with a pearl necklace and pearl earrings. This marriage lasted much longer than her marriage to Conrad Hilton. Elizabeth Taylor & Michael Wilding had two sons.

♥  Brigitte Bardot & Roger Vadim 1952
Brigitte Bardot was only 18 years old when she married French director Roger Vadim. Their marriage only lasted five years and both had their fair share of marriages after their divorce. For her wedding to Roger, Brigitte wore a classy maxi dress and a large veil.

♥  Jacqueline Bouvier & John F. Kennedy 1953
Jackie married JFK wearing an ivory silk taffeta gown, designed by New York fashion designer Ann Lowe. Ann and her team spent two months designing and making the dress. The gown consisted of appr. 50 metres of fabric.

♥  Audrey Hepburn & Mel Ferrer 1954
Audrey got married for the first time in 1954. She married fellow actor Mel Ferrer while wearing a gorgeous ballerina-esque Balmain dress and roses in her hair.

♥  Grace Kelly & Prince Rainier of Monaco 1956
If you're going to marry a prince and become royalty yourself, you of course need an extraordinary gown for your fairy tale wedding! Grace Kelly asked designer Helen Rose to design her wedding gown. The gown was made of appr. 25 metres of silk and antique rose point Brussels lace. It took three dozen seamstresses six weeks to make this dress, but the end result was magnificent. 

♥  Elizabeth Taylor & Richard Burton 1964
Elizabeth Taylor & Richard Burton were married – and divorced – twice. They first got married in 1964, divorced in 1974 and remarried in 1975. Richard Burton was Elizabeth Taylor's fifth and sixth husband.

♥  Jane Fonda & Roger Vadim 1965
Roger Vadim's marriage to Jane Fonda lasted for eight years. Jane Fonda wore a stunning A-line dress while a pair of suede boots added a quirky twist.

♥  Mia Farrow & Frank Sinatra 1966
Mia Farrow was 21 when 50-year-old Frank Sinatra proposed to her. He asked her to give up acting, which she refused. They did end up getting married in Las Vegas. But when Mia was offered the leading role in the movie Rosemary's Baby, Frank asked her to turn down this role. However, Mia took the part and this resulted in the collapse of their marriage. But they did remain friends until Sinatra's death.

♥  Priscilla Beaulieu & Elvis Presley 1967
Priscilla was only fourteen when she met Elvis at an army base in Germany, where she was living with her family. They were married just before Priscilla's 22nd birthday. It is rumoured that Priscilla designed and made the iconic dress herself.

♥  Audrey Hepburn & Andrea Dotti 1969
Audrey married Italian psychiatrist Andrea Dotti in 1969. Their marriage lasted 13 years and they had one child together.

♥  John Lennon & Yoko Ono 1969
John Lennon and Yoko Ono were married in Gibraltar and following their wedding, they staged their famous Bed-In for Peace. This was intended as a pacifist protest against the Vietnam war. 

Mick Jagger & Bianca Jagger 1971
Bianca was four months pregnant with their daughter Jade when she married Mick Jagger. She wore a YSL tuxedo jacket and a long skirt. They divorced after seven years of marriage.

Aretha Franklin & Glynn Turman 1978
Glynn Turman was Aretha Franklin's second husband. The marriage lasted four years.


Your perfect vintage inspired wedding gown
Have you caught the wedding bug? Then it's time to start looking for the perfect vintage inspired wedding gown! Check out our collection here.