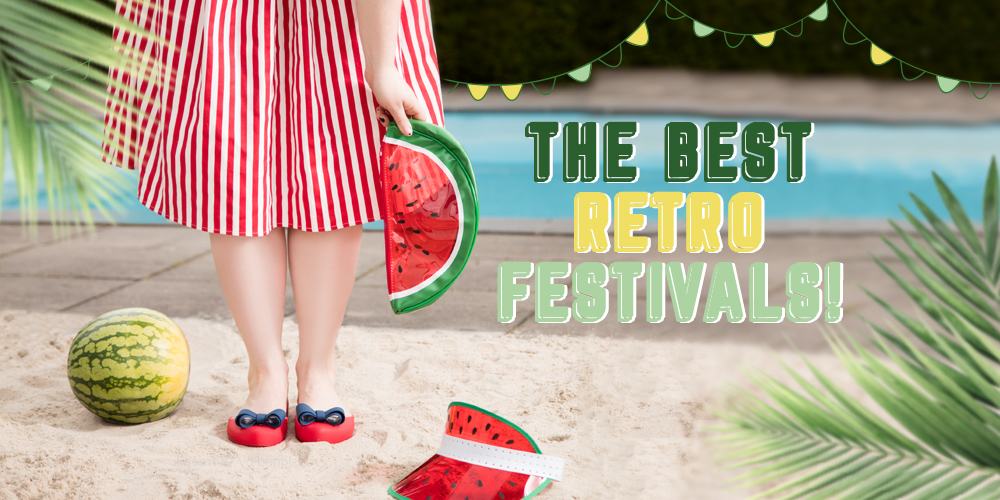 Nothing says 'vintage summer' like swinging at retro festivals all summer long! We've created a list of the best festivals for you. Round up your friends, put on a swing dress and get ready to twist the night away!



Boogie and Lindy Festival - May 30-June 2, 2019
The BAL festival is four days of dancing, workshops and parties. The place to be is Toulouse, France. You can attend Boogie and Lindy Hop workshops, or take the opportunity to discover other swing dances, like the Charleston, Jazz Roots, Routine, Shag and tap dance.

Rock'n'Roll WeekenderWalldorf - June 6-10, 2019
This Festival rocks on since 20 years. Besides a lot of International Bands, there is a huge dancefloor, the legendary Pool Party, a Hotrod Car Show, a Hawaiian Sea Stage on a lake. But that's not all, there are also Dance- and Styling Workshops and a Pin Up Contest. 24 bands, 10 Djs, 5 stages - Four days full of Rock'n'Roll and great people are waiting for you.

AnjouVeló Vintage - July 5-7, 2019
The place to be for the Anjou Veló Vintage festival is Saumur, France. The entire village comes together to celebrate vintage fashion and cycling. You can also listen to bands, have a look around the flea market or visit a real barber's shop.

Firebirds Festival - July 5-7, 2019
A weekend of rock 'n roll, classic cars, dancing lessons, stalls, photoshoots and so much more. Sounds pretty much perfect, right? And with the festival venue itself being a castle, it's definitely going to be a magical experience. Let's go to Leipzig, Germany.

Retrofestival - June 7-9 and August 9-11. 2019
The UK is blessed with two editions of the Retrofestival: one in Newark and one in Newbury. Both festivals feature 3 stages with performances from all-time favourites and newcomers. It's the place to be to enjoy live music, admire beautiful classic cars, treat yourself to a vintage style hair do, to buy some retro gadgets to add to your collection and so much more.

Twinwood Festival - August 23-26, 2019
Twinwood Festival in Bedford, UK is a celebration of vintage music, dance and fashion! And this festival offers you a chance to compete in the annual Mr & Miss Vintage UK competition. How cool is that?

Route66 - August 30–September 1, 2019
Route 66 in Aarburg, Switzerland should definitely be on your list of must-attend festivals this summer. The biggest old car & rock 'n roll festival in Switzerland with over 3000 classic cars on display. You can also get a tattoo, admire rollergirls in petticoats or visit the western village. Do we need to say more?
Viva Las Vegas - April 9-12, 2020
Viva Las Vegas is thé must-attend rockabilly event. Every year this festival attracts over 20.000 attendees for four days of live music (on 6 stages), burlesque shows, car shows, jiving lessons, pool parties and so much more all in Las Vegas, USA.

The Retro Festival - March 18-21, 2020
This festival has been a fixture on the retro scene since 2012. The perfect opportunity to see stars from the 70s and 80s in action in Luzern, Switzerland. Even more fun: enjoy the exclusive concerts planned around the festival at the Festivalhotel Schweizerhof Luzern.