Your go-to brand for unique, extraordinary prints and bright colours. This brand matches folklore-inspired prints with retro, their designs are quirky and feminine and whatever they do, they enjoy doing it. And that's a source of joy for us too, because we eagerly await each season's new collection. Yes, the brand that I am talking about is the delightful and fun Tante Betsy!


Listen to the colour of your dreams
Founder and owner Alisa Sprikkelman was creative from a very young age. Even when she was a little girl, drawing and arts and crafts were some of her favourite pastimes. Her school notebooks were covered in doodles; dolls, eyes, feet in high-heeled shoes and models wearing extravagant clothes. After several years, in which she completed two studies and was blessed with the arrival of three fabulous sons, she decided it was time to put this creativity to use. Together with a friend she founded the ''Tante Betsy'' brand in 2006. They sewed Pippi Longstocking aprons for kids, bags and pillows all made of bright, patterned fabrics and sold them online. So, why the brand name Tante Betsy? It's a nod to Alisa's childhood. The Dutch word 'tante' means auntie and Alisa herself had an auntie named Betsy!
So, how come the brand ventured into making women's clothes? One day Alisa went shopping for clothes and came home feeling totally disappointed and disillusioned. All the clothes available in the shops were dark and boring. Surely it didn't have to be like that?! Together with her friend she made the first Tante Betsy women's dresses using the same bright and patterned fabrics they would normally use to make their aprons for kids… and it was a big hit! Once the dresses went online, they sold out in no time. Eventually the demand was so huge, the sewing was outsourced to a married couple. Fun fact: the couple's workshop was based in their garage where they also kept and used their frying pan. So sometimes the dresses ended up smelling like spring rolls. That's how we (spring)roll!
Over time more and more garments were added to their collections, so they decided to drop the items for girls and fully focus on the women's collections instead, also deciding on outsourcing the production to Poland. When Alisa's business partner decided that she wanted to do something else in 2012, Alisa's husband stepped in to help out and until this day he still works for Tante Betsy fulltime. That's what we call true love! 
Alisa answers 3 burning questions



What did your (professional) life look like before you started Tante Betsy?
''Taking up a study in a creative field after finishing secondary school really was a no-brainer for me. I decided on the MDGO Fashion and clothes. After I completed this training, I enrolled in the Fashion Design Course at Artez University of Arts. After 2 years I decided to enrol in a different course, taking things into a new direction with a HBO studies in Social work for Residential Institutions, Community Development and Child and Youth Welfare Work.  Before I got pregnant with my first son, I was a group leader working with 'troubled teens'. Then I had two more sons. At some point, I decided I wanted to put my creativity to use again. I already had some ideas for children's clothes and one thing led to another.''
What inspires your FABULOUS prints?
''I started designing my own fabrics in 2014. I'm inspired by many things; things from my youth, things that I see around me, basically everything that triggers me. A candy wrapper, a bird, anything and everything can plant a seed that starts the design process!"
Tell us a little bit more about your team?
''I'm fully focused on design and styling. My husband Marc is in charge of the business and admin side of things. We have also had the pleasure of adding 7 lovely ladies to our team. Nicole is my assistant in all things product-planning, she is the contact person for our dealers and together with Anita and Mechteld also handles the pre-ordering. Anita, Shahira, Wendy, Mechteld and Sandra handle e-mails and the warehouse. They are the ones taking care of orders. Ellen makes sure that everything is folded properly and handles the returns.''


Did you know that?

Tante Betsy releases several collections per year? Not just the regular collections for spring/summer and autumn/winter, but also a number of 'in between collections' in quick succession.
You have to hurry if you've fallen in love with a Tante Betsy item? A sell-out item is hardly ever replaced by the exact same item. And we've all been there... nothing haunts us more than the treasures that we didn't buy.
Tante Betsy is fully focused on sustainability? Even though the current collections already contain a large number of items made of organic cotton, they are doing their utmost to be able to use even more sustainable fabrics in the future. We love that!
Tante Betsy clothes are now manufactured in different ateliers in Asia and Europe? Needless to say that there is no child labour involved and that the employees' working conditions are safe and fair. Tante Betsy cares greatly about a fair production process.
Tante Betsy has been available at numerous stores since 2014? We feel very proud that their fabulous collection is also available at TopVintage!
Tante Betsy's motto is ''happiness in a dress''? Hah, of course you knew! Even though their collection has expanded beyond dresses, Tante Betsy is always a little different, continues to surprise and always puts a smile on your face.
A fun fan and outlet day is high on their wish list? They hope that they can organise another one soon!
Alisa's main goal is that people, regardless of age and/or size, feel confident and happy in Tante Betsy items? Mission accomplished!
Alisa is on the lookout for a characteristic building and is thinking of possibly opening a bricks-and-mortar store in the future? YES PLEASE!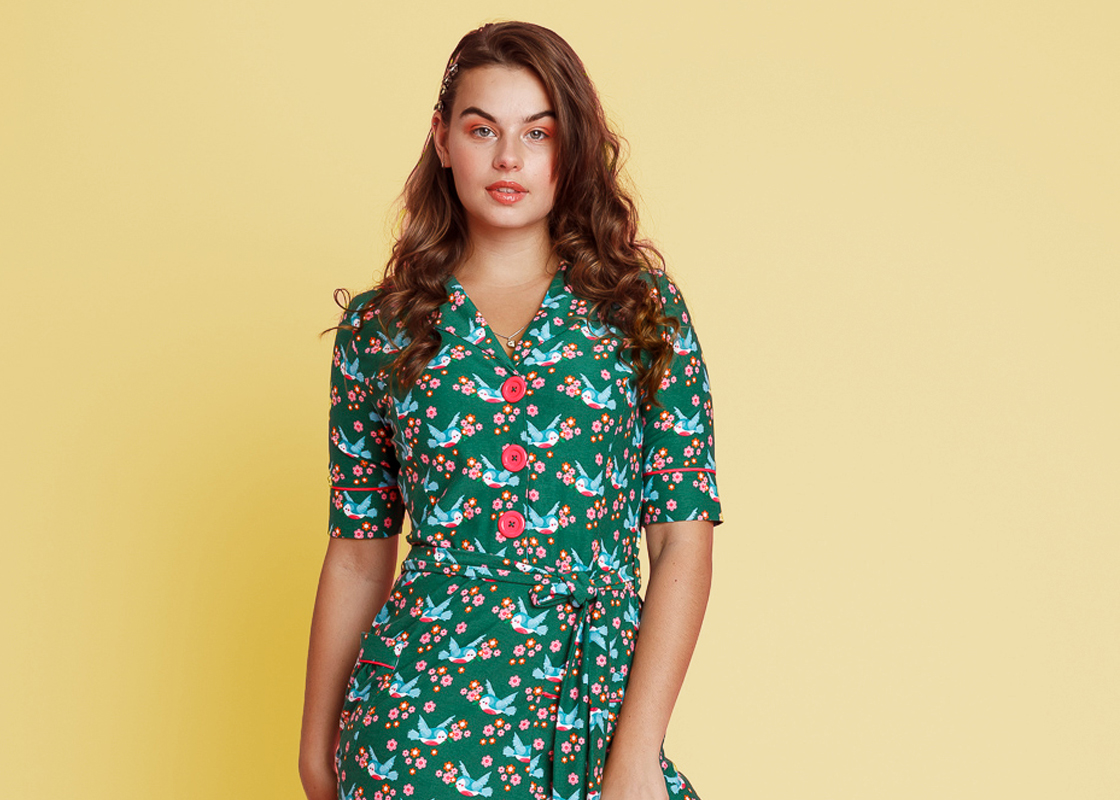 No more dark and dreary days with Tante Betsy!
Celebrate colour in your wardrobe with a Tante Betsy outfit that will fill even the cloudiest day with sunshine! A new season, a new collection but there is one thing that stays the same… Tante Betsy always manages to surprise us with fabulous, colourful items. From dresses and skirts, blouses and cardigans to trousers and trench coats… this season we're dressed in head-to-toe Tante Betsy! And did we mention the wonderful prints that never disappoint?! This season you can have your pick of cats, birds, flowers, tea pots, dots and more.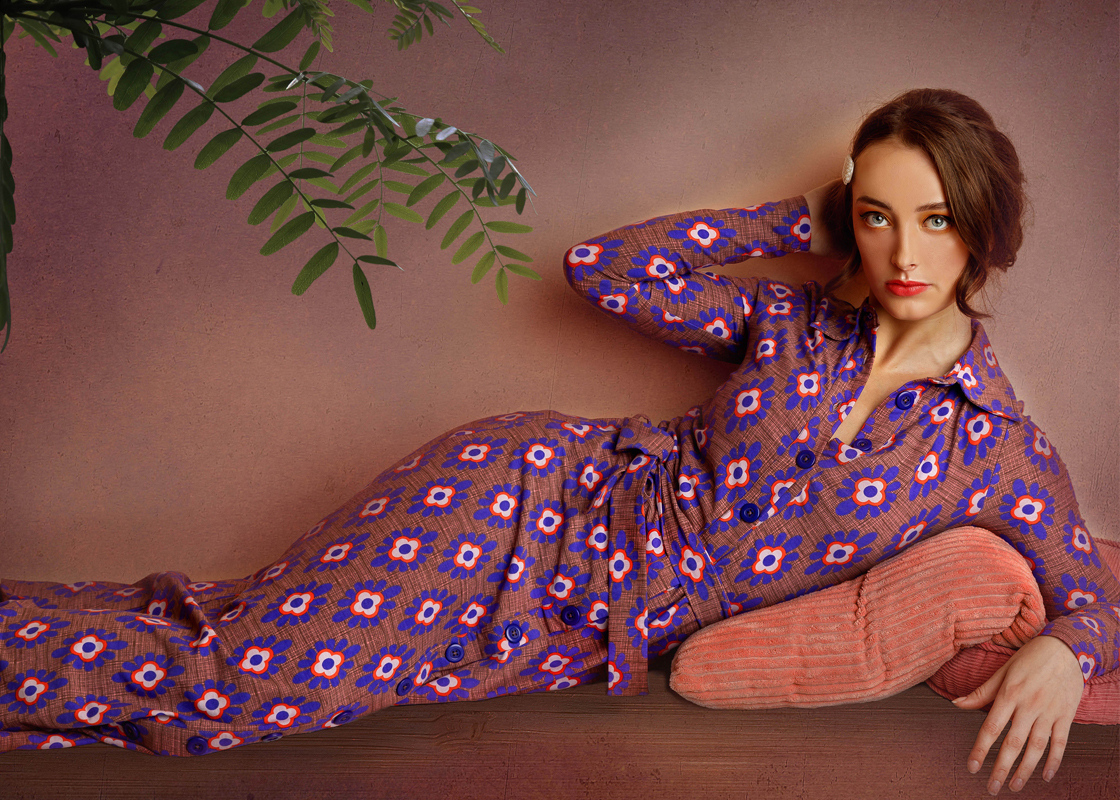 Can't contain your excitement? Just wait until you see the Tante Betsy collection for autumn/winter 2021… SPOILER ALERT! Alisa gave us a sneak peek that has us dreaming of autumn already. These items are not available yet, but be warned. You are sure to fall in love, we certainly already have! Until then you can treat yourself to one of their summery treasures for an outfit that will bring out your most colourful self. Have a look at the Tante Betsy Spring/Summer '21 collection and liven up even those grey and gloomy days with a splash of colour!